The Seven Wonders of the Ancient World, is a list of 7 prominent edifices created during classical ancient times, dating back to the 2nd century BC. The Great Pyramid of Giza is not only the oldest of the 7 Wonders of the Ancient World, but also the only one among these great structures to endure until the modern times completely undamaged. 
Its History
The Great Pyramid is one of the 3 Pyramids in Giza and it is also the largest of all the Egyptian Pyramids. It is originally a tomb of the ancient Egyptian Monarch Khufu, built in the 26th Century BC. The age of the great pyramid of Giza has been affirmed as 4600 years through the radio carbon dating method. According to the modern researchers, this massive structure took nearly 27 years to build. For over 3000 years, the Great Pyramid was the tallest man made structure ever made, known to humans, at 481 feet height. After the smooth white limestone casting was detached, the height got lowered to 454 feet.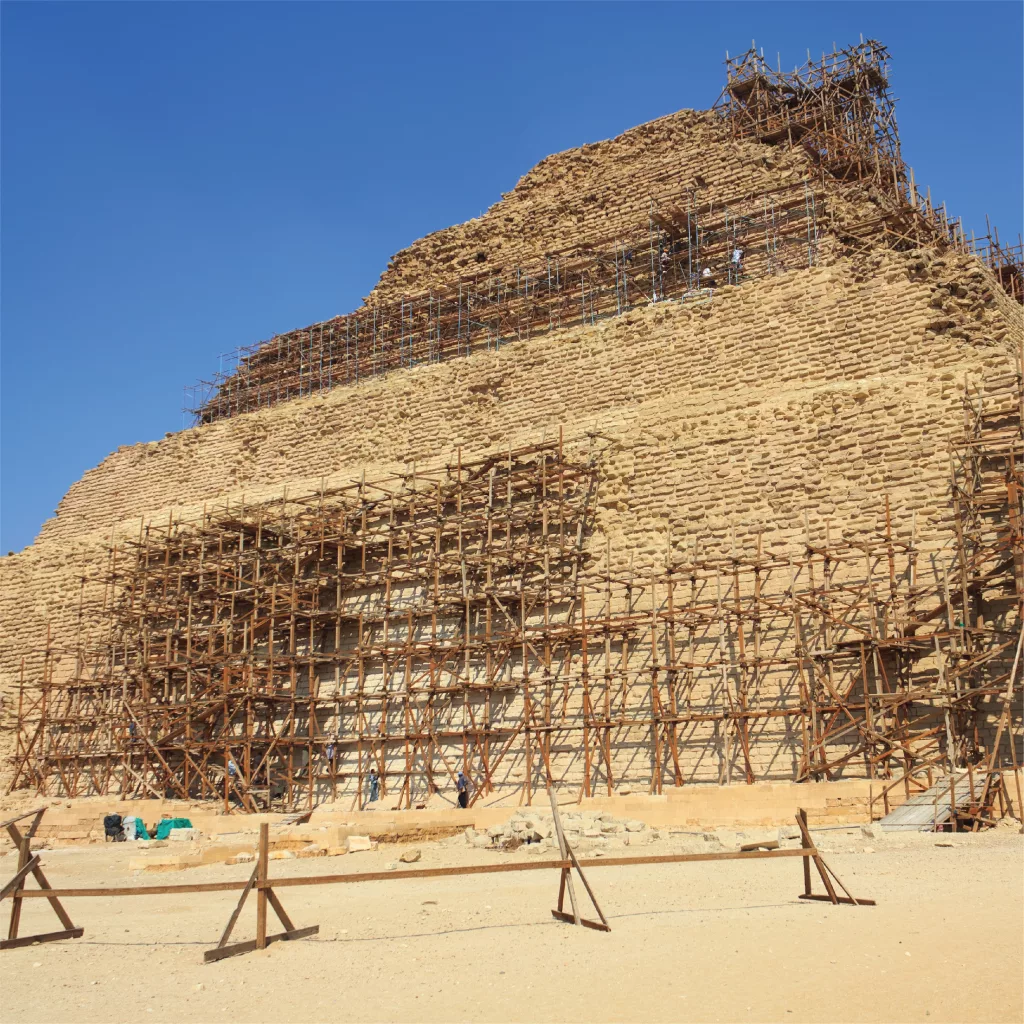 Its Construction
Researchers are not exactly sure on how the Egyptian people managed to build such gigantic structures. Many scholars and notable Egyptologists still wonder on how these large limestone blocks each of it weighing 2 tons were amassed together to form such Herculean pyramids. But some believe in a theory that ramps and pulleys were probably used to achieve this humungous task. Although the thousands of rocks used in making the exterior are not of the same size or shape, the pyramid as a whole is unquestionably symmetrical.
It is believed that more than 100,000 workers must have shed their sweat for its construction and almost 30,000 engineers, architects, surveyors, craftsmen and masons might have toiled together to bring the Great Pyramid of Giza to the desired form.
 Popular Activities You Can Try Here
Guided Tour of Pyramids with an Expert Egyptologist

Tour to Other Pyramids – Memphis, Sakkara and Dahshur
Hours Nile Cruise with Buffet Dinner & Entertainment – Live Musicians, Belly Dancers, and Traditional Folk Artists
Arabian Nights Sunset Tours – Ride on an Arabian Horse or Camel & later enjoy Bedouin Tea
Bahariya Oasis Camp & Desert Tour for 2 Days
Egyptian Museum Tour with a visit to the Bazaar (Traditional Shops)  
ATV Ride – Quad Biking Tour
4 Nights Cruise to Luxor, Aswan, Abu Simbel with Hot Air Balloon Rides
Photography Tour to the Great Pyramids of Giza
Private Airplane Tour to Luxor, Enjoy Sailing in Felucca, Camel Ride & Lunch 
People who travel to see the Pyramids can enjoy history and adventure at a budget or in pure luxury. Whether your clients fit into budget or the luxury category, T3 has great options of hotels, flights and tours to offer. Call us now to know about them!