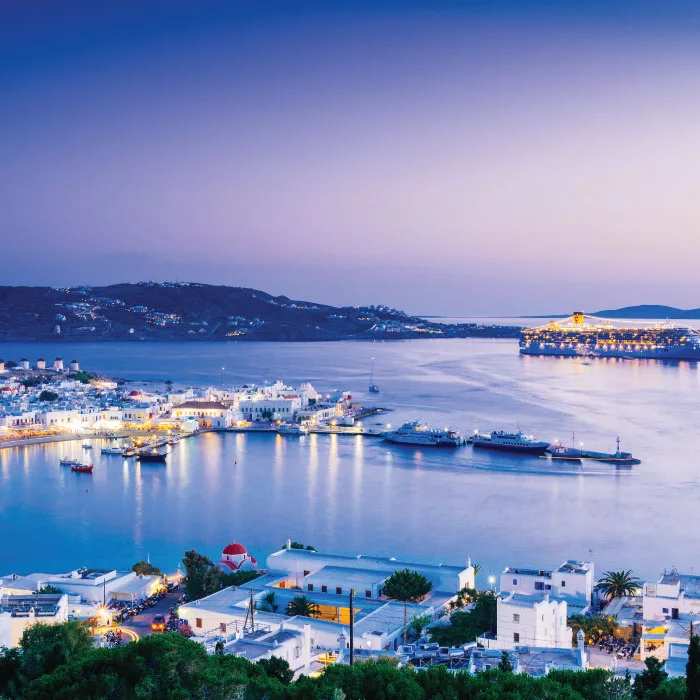 Greece is a country which is located in the South-East region of Europe. This marvelous country comprises 6000 islands and islets spread across the Aegean Sea and the Ionian Sea. The fun fact is that only 227 islands are inhabited! Read on to find out which of the islands should be on your client's must-do list.
Santorini – one of the most popular Greek islands ever! The rocky landscape of this astonishingly beautiful island was created during a volcanic eruption in the 16th Century BC. The cliff of Oia (the main town of Santorini) has been showcased in multiple movies across the globe. You can offer this island to all sorts of clientele. From the cheapest hotels to the best beach views, from undisturbed locations to 100s of years old heritage properties, Santorini offers a large plethora of accommodation menus to choose from. 
Mykonos – for those party lovers who crave the best DJ and some heart-pounding music, this is the destination to be. Ornos beach, Elia Beach, Paraga Beach, Paradise Beach, and Super Paradise beach are among the best seascape and are on a must-visit list for sea explorers! Nicknamed "the island of winds", Mykonos is quite popular for its great shopping spots and for its most instagrammable locations.
Ios – if your clients love staying at laid-back islands, simply relaxing alongside the blue Mediterranean seas, then Ios is a great idea. This island is also known by 2 other names – Io and Nio. A quaint little town at just about 18 KM long and 10 KM wide, this island is home to only a few restaurants and fewer population compared to many other islands across Greece. Since Ios is budget-friendly and costs much cheaper than Santorini and Mykonos, it is quite famous among solo travelers and backpackers.
Marathon – this island is an unknown, unheard and unseen secret for most regular travelers. But, in reality, Marathon is just about 40 KM by road from Athens, the capital and the largest city in Greece. In the historic event, when the Athenian Army (very less forces) defeated the Persian army (enormous forces), a set of Greek soldiers were sent running from Marathon to Athens for declaring their incredible triumph. This is where the modern time Marathon race got its name from. In terms of accommodation, boutique hotels, villas, beach resorts, affordable hotels, and the most luxurious stay options are available on this historic island.
You can choose any of these popular islands or hidden islands for your clients' Greek Holidays. But don't forget to contact your T3 agent for the best travel agent commission on all the Greece hotel bookings and excellent earnings on all the Greece tours and transfer purchases.