Jungfraujoch is rightly nicknamed "the Top of Europe" for being the highest accessible point in Europe and also an elevated panoramic view! If your clients are highly energetic and eager to experience activities like skiing, hiking, sledding, etc., then Jungfraujoch is the best place to suggest. If your clients are looking for a relaxing holiday with glacier views, be seated on a scenic cable car, and play around in the snow, even then Jungfraujoch is the best location to propose.
HOW TO GET TO THE TOP
Most humans are known to love heights, and there is always a sense of accomplishment in our hearts, once you reach the tip of a mountain or even a hillock. Here's how we can take your clients, literally to the "top of Europe". Travel Agent Tip – understand both modes of travel to Jungfraujoch well and suggest the right option to your clients. If you do this, once your clients return back from travel, you are sure to get amazing feedback about how nicely you gave the right advice in each small aspect. Such minor details are also noticed well by frequent travelers and once they are sure about your knowledge, they will start referring their family/friends group to make travel plans through you!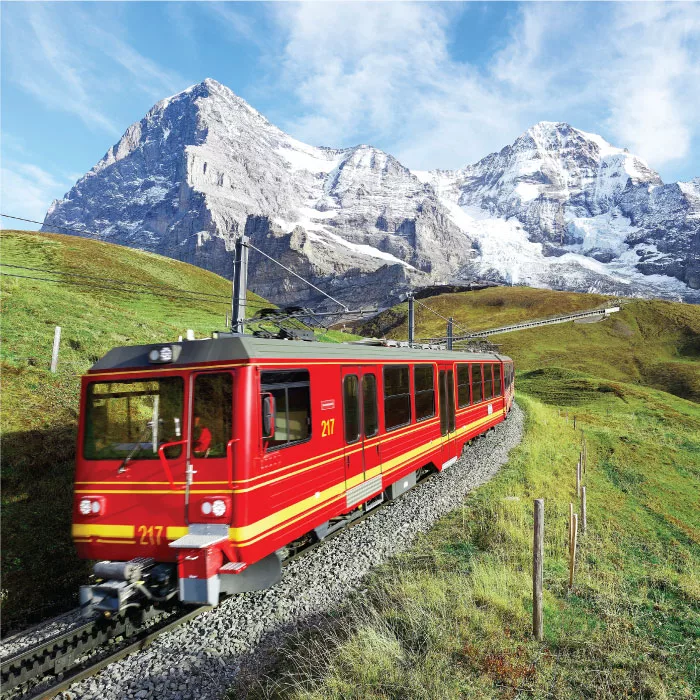 Getting to the Top: Century-old Award-winning Cog-wheel Train
Jungfrau rail station construction started in the year 1896 and was completed in 1912. From then on this mountain train has continued to fascinate people on every single journey. At 3454 meters this is the highest railway station in entire Europe! It takes approximately 2 hours from Grindelwald Terminal to reach Jungfrau Railway Station and the scenic journey is truly worth the time. For those who love to enjoy the journey as much as the destination, this is the best suggestion.
Getting to the Top: Eiger Express – Newly launched Cable Car
So exciting gondola/cable car ride was launched in December 2020 and it is one of the fastest cable cars across the globe! Within 15 minutes this cable car traverses from Grindelwald Terminal to the Eigerglestscher Terminal! From Eigerglestscher Terminal to Jungfrau visitors can board the 30-minute train to get a wonderful panoramic view! For those who love to travel faster, this is the best suggestion.